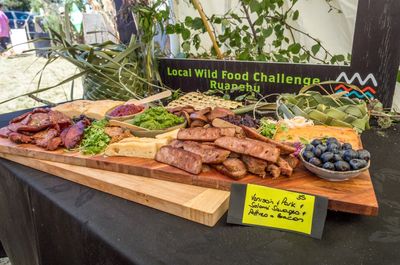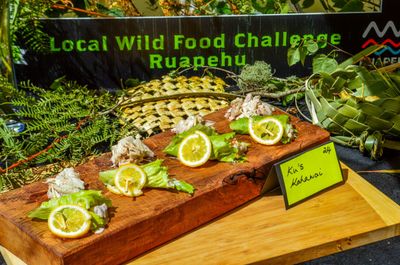 LOCAL WILDFOOD FESTIVAL
Ruapehu Local Wildfood Challenge has been hosted by the local team of Raetihi community members for several years. Over these years we have seen, tasted,and acknowledged the number of high standards of culinary dishes produced by our local and visitors competitors.


This event is completely supported by local businesses, whanau, and community from sponsorship and volunteering. Each year new and better dishes are judged by a number of local and national esteem judging panel. The fun family event is about showcasing our local talent such as Jason Haitana and his team will be doing a breakdown of a venison, showing skinning, different cuts and packaging.

There are cooking demos by Catherine Berry, showing which wild plants are edible.There are many other activities during the one day event from music, craft markets and food stalls. There is lots of hard work happening behind the scenes that creates this fun food event.
We are really grateful that the Local Wild Food Challenge is the brainchild of Billy Manson, chef at Martha's Vineyard in the USA, for six months of the year, and then promoting this event around NZ and the world. "As people who travel and cook," says Bill, "we have been amazed to discover just how much good wild food is right on our doorstep. This discovery has been largely due to friends, fellow enthusiasts, accomplished fishermen, hunters, gatherers and foragers. We thank these people for sharing with us their local knowledge and bounty of wild treats.

Beautiful environments, intriguing ingredients. Get amongst it!"
WHAT IS THE CHALLENGE? Create an entry featuring at least one wild ingredient. Entries maybe hot, cold, frozen, liquid - anything you feel like creating!
HOW DOES IT WORK?
1. SOURCE
Get out into your natural environment! Dive, Walk, Climb, Fish, Forage, Hunt, Barter, Gather.
More Effort = More Points.
2. HARVEST
Beach, Bush, Mountain, River, Forest, Ocean, Lake. Your Garden or Someone Else's
More Local Ingredients = More Points
3. PREPARE
Shuck, Slice, Marinate, Chop, Smoke, Bake, Ferment, Pickle, Distill, Brew.
Bring Most of Your Dish Prepared in Advance.
4. ENTER
Write a story about your dish. What happened on your culinary adventure. Tells us about the ingredients, what was the inspiration... Fill Out Registration Form.
Eat, Drink & Have Fun.
SKU: 10000-48