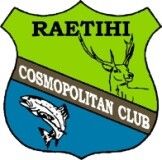 RAETIHI COSSIE CLUB
A local community hangout. Heart of the community on Seddon St.
This is a private members club with affiliated members through Clubs NZ
We welcome new members please contact us for more details.
Our fully licensed restaurant and bar serves hearty traditional meals,
As we operate under a club licence, there are rules that apply.
Open Thursday to Sunday for dinner. Functions by arrangement
SKU: 10000-6